The 2011 winners of the Eurovision Song Contest, Eldar & Nigar, have been awarded the Best International Video Award at the OE Video Music Awards held in the Latvian capital, Riga.
On December 3rd, the OE channel broadcast the show full of local and international guests, including Eurovision winners Eldar & Nigar, according to OE TV website. Over 20 artists attended the event from various countries in Europe including Russia, Finland, Sweden and Ukraine. Eldar & Nigar won their category for 'Best International Video' and were up against well known artists such as Маx Barskih and Sergey Lazarev (NF 2008).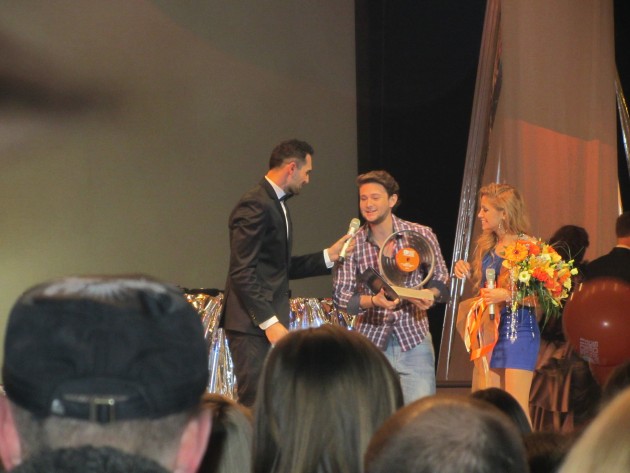 IMG: delfi.lv
Nominations for Best International Video;
– DJ M.E.G. feat. BK: Make your move — [Russia]
– Kazaky: In the middle — [Ukraine]
– Маx Barskih: Lost in Love – [Ukraine]
– Eldar & Nigar: Running Scared – [Azerbaijan]
– Sergey Lazarev: Heartbeat – [Russia]
The Azeri duo won the most recent Eurovision Song Contest which was held in Dusseldorf back in May, with 'Running Scared'. Since the contest, the duo has experienced fame across Europe plus began many new projects.
httpv://www.youtube.com/watch?v=eG2uNbNRkAw
In 2010, Serebro (Russia 2007) won the award for their video for 'Ne Vremya'.