Today on the TV show "Beogradska Hronika", RTS will officially announce the singers for the upcoming Serbian National Final.
As already reported, Aleksandra Kovač was confirmed one of the singers in the Serbian National Final where she will perform her own entry "Idemo dalje" (EN: We are moving on). Nina is the second singer who is performing the pop entry called "Čaroban" (EN: Amazing) from Aleksandra's sister Kristina Kovač. Today it has become clear that the third composer, Kornelije Kovač, will select the band "The Breeze" to perform his entry "Ring Ring Ring".
RTS will announce these three performers at 17:45 CET on "Beogradska Hronika".
Final
Artist
Song
Composer
Aleksandra Kovač
Idemo Dalje
Aleksandra Kovač
Nina
Čaroban
Kristina Kovač
The Breeze Band
Ring Ring Ring
Kornelije Kovač
---

The biggest surprise so far is the selection of "The Breeze" band who are unknown to the Serbian public. Their repertoire includes the songs in style of the 60's . The members of "The Breeze" band are: Aleksandar Eraković Era (in the photo; vocals, guitar), Marko Čalić (bass guitar, vocals), Damjan Dašić (drums, vocals), Nikola Dunđerović (guitar, vocals) and Radovan Spasojević (guitar, vocals). The band will perform "Ring Ring Ring" in the national final which is described as a 60's style Eurovision hit!

Gallery:

The next performer, and one of the composers, is Aleksandra Kovač who has achieved a lot in her career so far. Winner of the 2006 MTV Europe Music Award for the "Best Adriatic Act", Aleksandra is not only a singer and composer but owns her own record company called "Raprodukcija", is involved in various humanitarian projects and also has a singing school named "Beogradski Glas". Aleksandra will sing a self-composed power-ballad in the Serbian National Final. You can read our interview with Aleksandra here!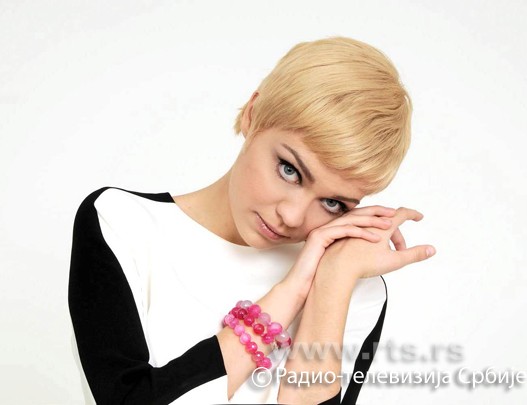 Nina will sing Kristina's entry called "Čaroban". Nina has been singing and performing since childhood and is a multiple winner of the Children's Cultural Centers award the "Golden Mermaid".
Nina is the lead singer of the band "Legal Sex Department".
Nina will perform the pop entry from Kristina called "Čaroban".