[cft format=0]
On SF's official twitter page, it has been revealed that Lys Assia is planning to wear the dress from her 1956 victory at the Swiss National Final in Kreuzlingen!
The tweet read; "I'm going to wear the 1956 winning dress at the national final (hope it still fits…)".
You can view her dress, however in black and white, below [click the image to enlarge];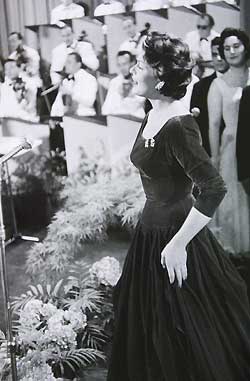 Could the dress be Lys' good luck charm? On December 10th we'll find out for sure when the Swiss National Final takes place on December 10th where the representative for Switzerland for the upcoming Eurovision Song Contest will be decided.
You can view Lys' winning performance of 'Refrain' from 1956 below;
httpv://www.youtube.com/watch?v=S_myKGbOcZ8